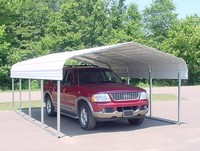 Although "carport" is practically synonymous with "portable storage," the shelter has other practical uses. As displayed recently in a piece in The Romeo Observer, carports can use to cool cars in summer and reduce idling time in winter.
The newspaper reported that the Oakland Township substation for the Oakland County Sheriff's Office in Michigan requested carports for safety reasons, and since then, a proposal for such a structure to be added was approved. In terms of better performance, those at the substation find that a carport would improve response time, as the cars underneath would not heat up as much, while in winter, the less exposure the vehicles have to the cold would reduce idling time, and thus decrease gas expenses.
Sergeant Anthony Spencer from the substation told the press, "In the summer, what we're finding is, those cars are just sitting there baking and it's causing equipment problems. It's overheating the equipment in the car." He then added, "Every year it seems, the guys who are loading and inspecting their cars, they slip and fall on the ice, and they're off work, which in turn brings up overtime issues and things like that."
Both reasons are applicable to everyone who owns a car. A vehicle heating in summer is a common issue for many, and a car kept under a carport for several hours ends up having a cooler interior. In the winter, similarly, a carport reduces the amount of snow and ice buildup on and around a vehicle. While the shelter, save for enclosed carports, will not keep all snow and ice out, it lessens time a vehicle needs to be dug out. Ideally in winter, however, a carport should be enclosed to keep your vehicle as free from snow and ice as much as possible.