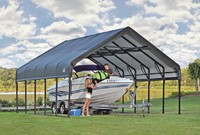 When the weather gets colder, we often talk about protecting your RV or boat in winter. A carport or portable garage is the solution, but not all shelters are equal. Even then, if you do own a carport that is functional in warmer weather, is it built to handle the elements in winter? In either instance, evaluate your carport before sticking a boat or RV underneath for several months.
Carports and portable garages essentially come in two types: powder-coated or galvanized steel. Other strong varieties, such as square tube shelters and truss buildings, are also on the market, but these, too, are divided between the two types of frame compositions. Although both are designed to handle the elements, galvanized steel – coating steel with zinc for rust and corrosion resistance – ends up holding up better than powder-coated varieties, which have paint baked onto the metal. While in the short term both may protect your vehicle for a season, a powder-coated steel carport may end up experiencing more wear and tear and is not practical for long-term use.
Galvanized steel carports, on the other hand, are designed to last several years – sometimes even up to 15 – when left outdoors. If you have a galvanized steel carport with a polyethylene cover for long-term use, check the polyethylene, as the lifespan of the material ends up being shorter than that of steel. If the polyethylene is torn, worn, or frayed, find a replacement cover of the appropriate size before the vehicle goes into storage.
On the other hand, a valance carport may not provide you with sufficient coverage in colder weather, and if a boat or RV is going to be stored under it for several months, the structure needs to be fully enclosed. To enclose the carport, find polyethylene side walls and replacement panels of the right fit to modify the structure.